A Gallery of Theatregoers

Let us go to theatre together.

Avant le Théâtre.
Gentille amie, je vous emmène
Au théâtre ! Allons, venez-vous ?
J'ai loué pour vous une avant-scène
Et j'entends faire des jaloux !

Tom Browne: "My wife won't let me."
"So kind of you to go the the theatre with me Mrs. Mugg. Will your husband come too?"
"Oh dear no! He will stay at home and mind the children"

I. Ushakov: Teatralnaya deyatelnost silno
pridlizila kolonistov k celyanskoi molodeshi

"Geisha Girls" looking up the actor-list of Kabuki that
is the generic team [sic!] for classical dance of Japan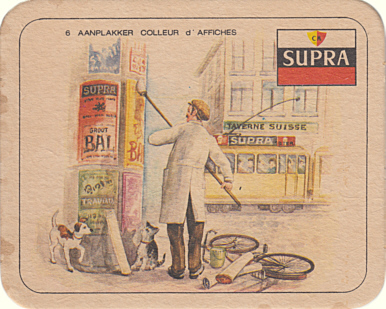 Aanplakker / Colleur d'Affiches [billsticker]

"Gospel o. Vivaldi", Paris

"Oper in Kürze" (SMS service of Oper Leipzig, Germany)

Schauspielhaus, Berlin

Schiller-Theater Ost, Berlin, c. 1900

Theatre du Vaudeville, Paris, c. 1900

Emperor Franz Joseph arrives at the spa theatre of Bad Ischl, c. 1905

Comédie Mondaine, Paris

Staatsoper, Wien

Prinzregententheater, München

Opéra (Palais Garnier), Paris

"We have a couple of good setas for the show. /
Nos avons deux bons fauteuils de face."

Teatro La piccola Canobbiana, Milano

Festspielhaus, Bayreuth

Naturtheater Heidenheim, 1930s

Seidenfaden-Varieté, Krefeld, 1930s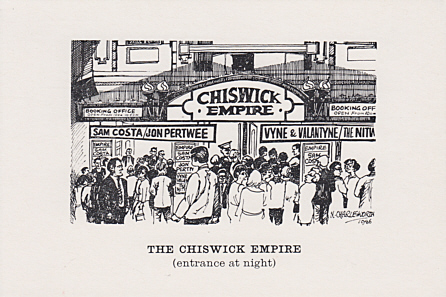 Chiswick Empire, London

Hansa-Theater, Hamburg

GOP Varieté-Theater, Hannover

Opera, Ljubljana

Teatro alla Scala, Milano

Bayerische Staatsoper, München

Premiere at the Théâtre des Mathurins, Paris, 1990

Imperial Theatre, New York, in the 1990s

Majestic Theatre, New York, in the 1990s

Festival mondial de folklore, Drummondville, Canada

Aint it aggravating when you get to the theatre and discover you've left the tickets at home?

District Messengers hired to retain good places at the Aldwych Theatre, London

queues at the Paris Opéra before a performance with free admission

- Je ne prends ces deux
loges que si vous m'assuriez
qu'il n'y aura pas de grève
d'electriciens.
- Oh je puis vous l'affirmer...
le théâtre étant éclairé au gaz.

Bilder aus dem Volksleben des Schwarzwalds. Hannes u. Michel vor der Theaterkasse
Hannes: Sie, Herr Kassier, was kostet's denn, wenn m'r ins Theater will?
Kassier: I. Platz 3 Mark, II. Platz 2 Mark, III. Platz 1 Mark. Programm 10 Pfg.
Hannes: Du Michel, no sitzet m'r aufs Programm.

Theatre Royal, Brighton

125 Jahre Deutscher Bühnenverein (Maximum Card, Germany, 1996)

by Oscar Bluhm

usher and woman holding a coat
(the poster in the background advertising "Faust")

Yuri I. Pimenov (1903-1977): Opozdavshne [Late], 1970

Théâtre de la Montansier, Paris, c. 1805

Théâtre de la Montansier, Paris, c. 1805

Hofoper (Semperoper), Dresden

Iroquois Theatre, Chicago, c. 1903

Opéra (Palais Garnier), Paris

Opéra (Palais Garnier), Paris

Staatsoper, Wien

Burgtheater, Wien

Perle: couleur blanche légèrement azurée
Langage: beauté irrésistible

Metropoltheater, Berlin

Metropolitan Opera, Lincoln Center, New York

Festival Theatre, Paignton

Dorothy Chandler Pavilion, Los Angeles

April 25 House of Culture, Pyongyang

April 25 House of Culture, Pyongyang

Opernhaus, Leipzig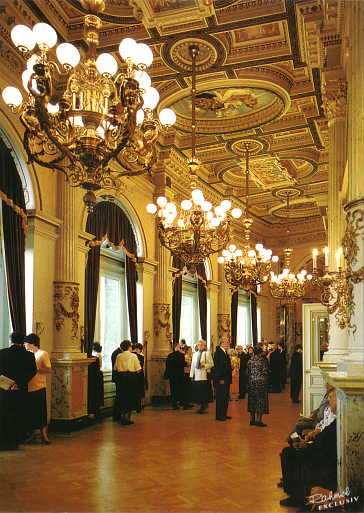 Semperoper, Dresden

Opéra Bastille, Paris, ca. 2003

Salle du Palais-Royal, Paris, 1770s

Opernhaus, Berlin, 1862

Burgtheater, Wien, 1888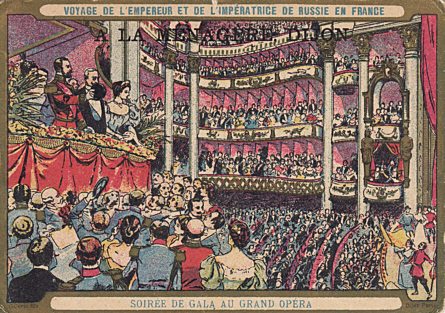 Czar Nicholas II at the Opéra, Paris, 1896

Stadttheater, Berndorf

Opernhaus, Graz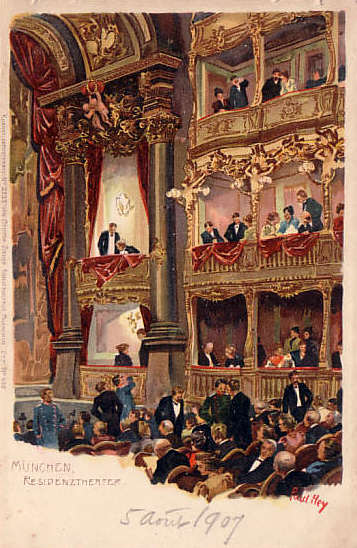 Altes Residenztheater, München

Opéra-Comique, Paris

Loge de Face (Vaudeville)

"Die Rendez-vous-Loge" by F. Gareis

Kissing couple by F. Gareis

Au Théâtre.
Les loges sont des nids discrets voluptueux,
Où les baisers séchangent entre les amoureux.

Music Hall, Steel Pier, Atlantic City

En el palco están muy juntos
y aúnque miran la función,
¡de seguro están pensando
momentos dulces de ilusión!

Opéra de Monte-Carlo, Monaco

Kungliga Operan, Stockholm

Ballet Comique de la Reine, Paris, 1581

The Globe, c. 1600

Redoutensäle, Wien, 1760

Baroque reenactment for a movie at the Markgräfliches Opernhaus, Bayreuth

Opéra de la rue de Richelieu (Salle Montansier), Paris, 1796

Drury Lane Theatre, London, 1808

Sadler's Wells Theatre, London, ca. 1809

Theatre Royal Covent Garden, London, 1818

Kärtnertortheater, Wien, ca. 1820

Park Theatre, New York, 1822

Comédie-Française, Paris, 1830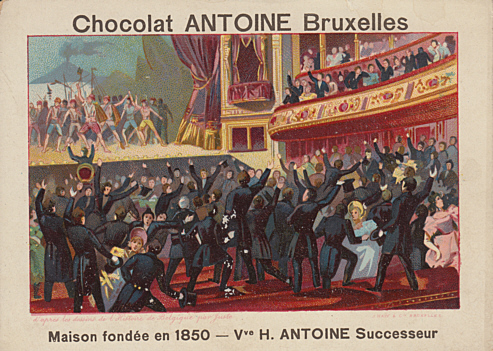 Théâtre de la Monnaie, Bruxelles, 25 Aug 1830:
opera audience launching the Belgian Revolution

Théâtre des Funambules, Paris, in the 1830s,
as depicted in the 1945 film "Les Enfants du Paradis"

Edgar Degas: La Loge, Opéra, Paris

Saturday Night at the Victoria Theatre
(Old Vic), London 1872

Charles Cottet: Loge à l'Opéra-Comique,
Paris, 1887

Théâtre du Châtelet, Paris, 1895

Opéra, Paris

Opéra, Paris

À l'Opéra

La Gigue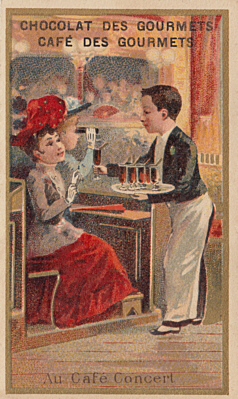 Au Café Concert

La Musique

La vie Parisienne - Au Théâtre

Théâtre Montmartre, Paris, c. 1901

Moulin Rouge, Paris

Opernhaus Frankfurt, c. 1900

Hammonia-Varieté, Hamburg, around 1900

Corso-Theater, Zürich, around 1900

Orpheum, Graz, c. 1901

Casino Cereta, Puigcerda, c. 1904

An open-air crowd at Waldtheater Oybin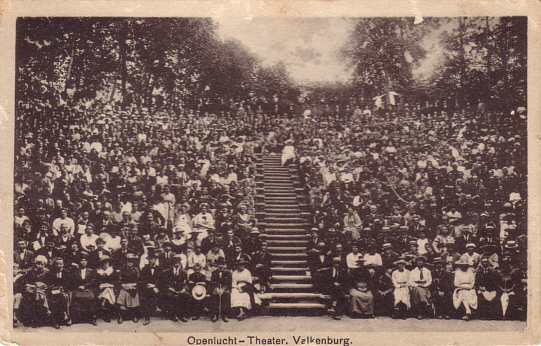 An open-air crowd at Openluchttheater Valkenburg

Shanghai, China

Tea during the performance at a theatre in Nagasaki, Japan

Opéra, Paris

Martin Monnickendam: Spectators in a box
in the Amsterdam Stadsschouwburg, 1912

Palace of Varieties Theatre, Southampton, 2 July 1912

The ducal box at the Court Theatre, Braunschweig, 1913

Schauspielhaus, Leipzig

Optimisme. - Mais... le fameux collier de perles
de cette danseuse... c'est du toc!... -
Oh! Vous savez, au théâtre, les bijoux faux,
il n'ya que cela de vrai.

- Sa voix est délicieuse..., elle a
des notes excessivement élevées...
- Chez le couturier surtout...
(illustration by A. Guillaume)

Gentlemen will find a lot to interest them
by looking down the Ladies Column.

At the Opera

Lieben und Leben
Auf der Bühen wie im Leben
Nur ein Suchenund ein Streben
Nach dem schönsten aller Triebe,
Leidenschaft und Menschenliebe.

The Merry Widow
Friday
Her next number on the programme
Is to hear an opera with one she admires
For a new matrimonial alliance
She already desires.


A couple in a theatre box, by Bianchi

Willi Scheuermann: Raffkes im Theater [parvenus at the theatre]

Gala opening at the old Metropolitan Opera, New York

Teatro della Concordia, Montecastello di Vibio, 1929

Aleksandr A. Deyneka: Zriteli (Audience), 1929

Variety at the Scala, Berlin, c. 1932

Yuri I. Pimenov: V teatre (At the Theatre), 1934

Opéra de Monte-Carlo, 1941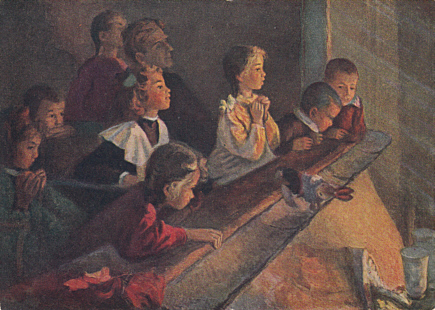 Yelena L. Leonova: Deti v teatre (published in 1955)

Housewives' afternoon at a variety theatre, Essen

Pitlochry Festival Theatre

Where did you learn that double-tickle Bert?


Hyperémotivité... Atarax
(Belgian advertisement card, sent in 1956)


Bolshoi Theatre, Moskva

Teatr im. Adama Mickiewicza, Cieszyn

Slottsteater, Drottningholm, Sweden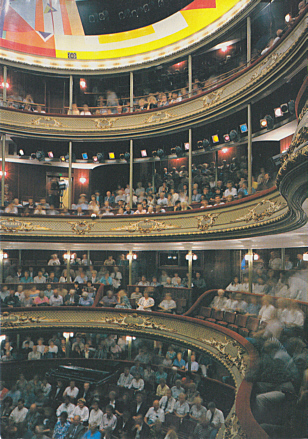 Stadsschouwburg, Groningen

Waldbühne, Berlin

Luise-Albertz-Halle, Oberhausen

"Seasoned First-Nighters and a First-time Theatregoer",
Tricycle Theatre, London

Freie Volksbühne, Berlin, 1990

Opéra (Palais Garnier), Paris, c. 1997

Opéra Bastille, Paris, c. 1997

Deutsches Nationaltheater, Weimar

Le Volcan, Le Havre

Theater, Erfurt

Opéra Bastille, Paris, ca. 2003

Comédie-Française, Paris, c. 1858

Comédie-Française, Paris, 1885

Patrons meeting ballerinas during an intermission
at the Paris Opéra - a favourite erotic pastime of the late 19th century

Pendant l'entracte

Tea Room at the London Coliseum, c. 1905

Bar at Pitlochry Festival Theatre

Theatre Royal patrons during an intermission
of Wexford Festival Opera

Champagne at Opernhaus Hannover

Opéra Bastille, Paris, ca. 2003

Intermission is over!
(Fanfare at the Festspielhaus, Bayreuth)

H. Daumier: Croquis Dramatiques. Un rappel de chanteuse... scène de haute comédie, 1857

B. I. Lebedev: Nikolai Stankevich at a Moscow Theatre
(published in 1981)

Edgar Degas: Fin d'arabesque, 1877

A gala performance at the Weimar Court Theatre

Au Théâtre - Bravo, 1904

Thanks for your favour

I wonder if you'll miss me sometimes.

William Laparra: L'Ovation (Salon 1906)

Léon Galand: L'Ovation (Salon de 1913)

Pyotr A. Oborin: Pervyi uspekh [First Success]

Asolo Theatre, Sarasota

Deutsches Theater, Berlin, 1950

Staatsoper, Hamburg

Prinzregenten-Theater, Ludwigshafen

Theater des Westens, Berlin, ca. 1995

France, 1997

National Opera House, Wexford

Theatro da Paz, Belém

Stadttheater, Freiberg

À l'Opéra

Albert Guillaume: Vestiaire

Salle du Palais-Royal, Paris, 1770s

L. Nepomnyashchy: Chopin leaving the theatre
(from a postcard series published in Moskva, Soviet Union, 1980)

Apollo-Theater, Düsseldorf

Burgtheater, Wien

Olympia, Paris

Tom Browne: After the play.

Opéra, Paris

Opéra, Paris

Burgtheater, Wien

Nationaltheater, München

London Life. After the Theatre.

St. James' Theatre, London

Nationaltheater, München

Küchlin's Varieté-Theater, Basel

Stadttheater, Dortmund

Stadttheater (Opernhaus), Zürich

Grand-Théâtre, Genève

St. James' Theatre, London

Stadttheater, Bernburg

Opéra de Monte-Carlo, Monaco

Opéra de Monte-Carlo, Monaco

Nach der Oper im Kaiserhof Berlin

After the Theatre at the Knickerbocker

Nach dem Theater, nach der Abend-Unterhaltung
(advertisement for German wine, 1927)

A. Faugeron, Le Métro à la sortie de l'Opéra, 1909

F. Macleod: The last car from the theatre, 1908

Theatre-Land from Metro-Land and back.
Late return trains have Pullmans serving supper
(modern repro of a 1930s illustration[?])