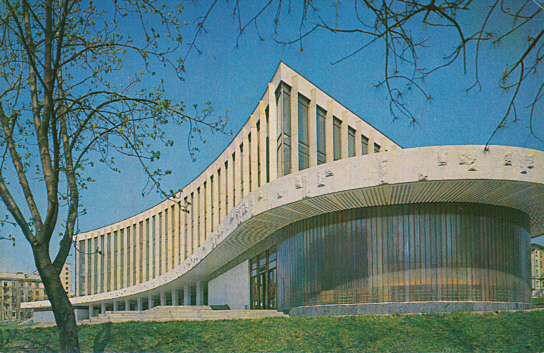 Reverse Text: "Kiev. Palace of Culture 'The Ukraine'. 1967. Designed by Ye. Marinchenko, P. Zhilitsky and I. Weiner. Kiew. Kulturpalast 'Ukraine'. 1967. Architekten J. Marintscenko, P. Shilizki und I. Weiner. Kiev. Palais de la culture 'Ukraine'. 1967. Architectes E. Marintchenko, P. Jilitski et I. Weiner. Kiev. Dvoerts kultury 'Ukraina'. 1967. Arkhitektori E. Marichenko, P. Zhilitsky, I. Vainer."
Publisher: Aurora Art Publishers, Leninggrad, 1980
Type: Souvenir Card, not designed for postal use
Size: Classic
Not sent.